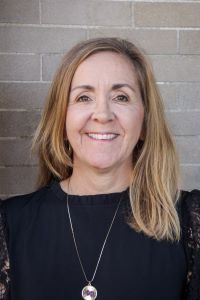 Highly organized and exuding positivity, Karen Cornett serves as Centennial's office manager, providing first-class support and an exceptional experience to everyone who works at and visits the Centennial office. Karen's experience in event management, office administration, project leadership and customer service are an ideal complement to the high-touch services Centennial provides.
Prior to her work at Centennial, Karen has been an event manager, account executive and fundraising coordinator.  She is a natural relationship-builder, born out of her authentic smile, warm personality, and desire to help.  Her organizational strengths equip her to manage multiple projects with great attention to detail and timeliness.  She is happiest when she is busy making things happen.
When Karen is not keeping the office running like a well-oiled machine you can find her enjoying a day trip with her husband, volunteering at several charities such as Matthew 25 Ministries, Loveland Food Pantry and the Loveland Amazing Race; or enjoying the upkeep (and results!) of her many flower gardens.  Along with her husband, she cherishes any time she has with her 4 adult kids and extended family.