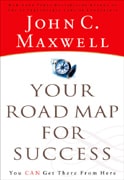 In John Maxwell's latest book, Your Road Map for Success*, he provides five traits of leaders who attract other leaders.
I have had the opportunity to shake Maxwell's hand twice at leadership conferences where I heard him speak.  Maxwell is a prolific author, and his books account for large percentage in my personal library. I greatly admire and emulate Maxwell's relentless pursuit to "finish well," in my professional life and personal life. Maxwell has helped shape my definition of leadership, and how it applies to those I lead, the clients we serve and how I serve my family.
In Your Road Map for Success, Maxwell coaches, "As you look for potential leaders, you need to realize that there are really two kinds of leaders: those who attract followers and those who attract other leaders. People who attract and team up only with followers will never be able to do anything beyond what they can personally touch or supervise. Look for leaders who attract other leaders. They will be able to multiply your success."
Two Types of Leaders
Characteristics of Leaders Who Attract Followers
Need to be needed
Want recognition
Focus on others' weaknesses
Spend their time with others
Experience some success
Characteristics of Leaders Who Attract Leaders
Want to be succeeded
Want to reproduce themselves
Focus on others' strengths
Invest their time in others
Experience incredible success
Understanding these leadership characteristics is important for two reasons:
As you continue to evaluate your organization's needs, we at Centennial have observed that leaders focused on elevating organizations generally share the characteristics of "Leaders Who Attract Leaders." The five characteristics Maxwell details can be summed up in one word: selflessness.
You need to determine what type of leader you are—one who attracts followers or one who attract leaders. And, more importantly, what type of leader do you want to be? Look at each list, thinking of yourself. If you can honestly say you are someone who attracts leaders, opportunities certainly await. If you find that you have a few gaps to fill, do not despair. Instead, invest in your leadership development. (Yes, I just said that.) In fact, a little "selfishness," in this case, could lead to ultimate selflessness—making you into the leader you need to be.
Investing in your leadership sounds daunting, but it is not. It is worth the investment for you and all of those around you. Take one step in the right direction today, simply pick up one of John Maxwell's books.  You can also sign up for a daily leadership devotional follow him or others on Twitter.  Investing in yourself can be that easy.
In the words of John Maxwell:  "[Know that] to keep attracting better and better leaders, you will have to keep developing your own leadership ability."
Pick up your copy of Your Road Map for Success. Or, check out a book from this list for other great authors that I read recently. Then, let's get together to talk leadership, or leave me a comment below.  I look forward to the discussion!

Question: What is your favorite book, quote or resource of John Maxwell? Share in the comment section below.
*As an Amazon Associate, Centennial earns commission from qualifying purchases.