What do you think of when you think of a family business?  To some, the term family business may bring to mind a small hardware store, a moving service or a local restaurant.  Oftentimes you'll spot these family businesses by name alone.  Names such as "Bowman Stove", "Pete and Sons", or "Dottie's Place" are all good indicators of a family business. 
For others, the term family business may generate grand images of multinational conglomerates that birthed from humble beginnings.  These powerhouses, such as Walmart, Cargill and Hershey, stand tall under the banner of family business, shining as a beacon of what is possible.  
Some family businesses are very young and others span multiple generations.  Each family business is as unique as the families themselves, but together they provide a strong and essential foundation to our global economy.
Challenges to Tracking Family Business Impact
Tracking the quantifiable impact of family business on the global economy has proven to be a challenge to researchers over the decades.  This challenge stems from two main reasons:
There is not a unified definition of what constitutes a family business
Lack of worldwide statistics – Regions in Africa, the Middle East and large parts of Asia have not been thoroughly studied.
A groundbreaking study was conducted in 1996 to capture the impact of family businesses on the U.S. economy.  This research,  authored by Joe Astrachan and Melissa Carey Shanker was updated in 2003.  Then as recently as 2021, a team of leaders, including one of the original authors, Joe Astrachan, released the latest version, Update 2021: Family Businesses' Contribution to the U.S. Economy.
Their research has helped build structure around the ambiguity of tracking the impact of family business on the economy.  Using a bulls-eye illustration, the researchers break down the statistics according to how you choose to define a family business. Here is the most recent illustration.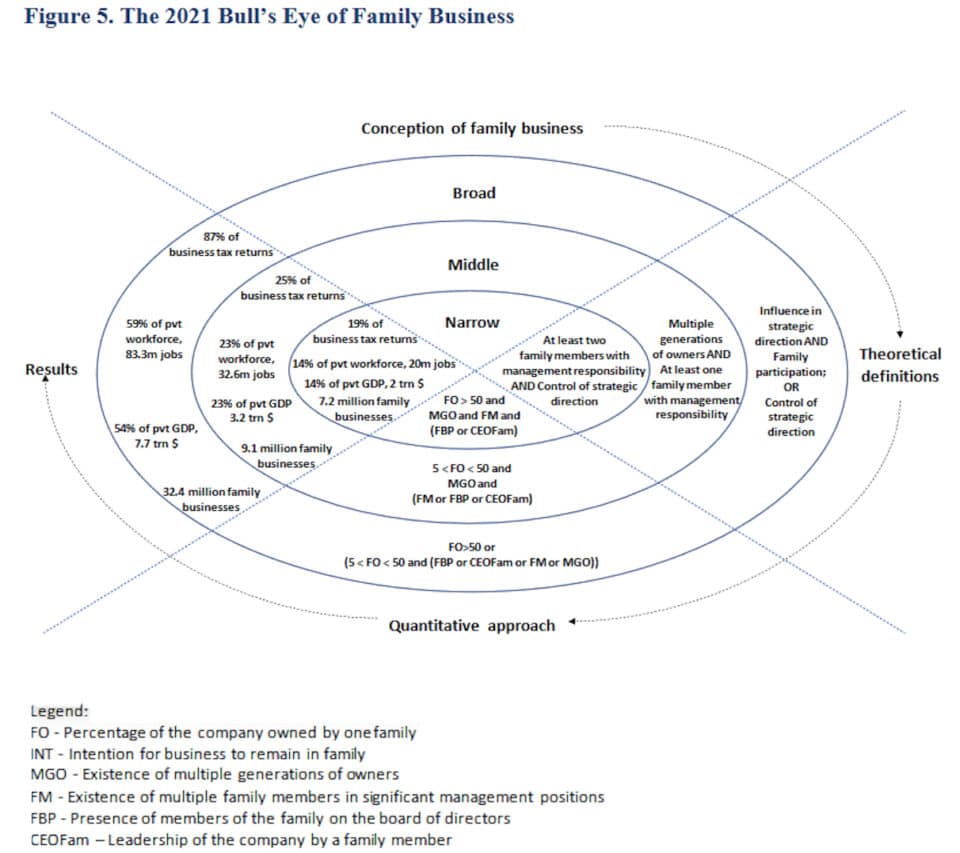 Although we cannot provide a conclusive definition of what constitutes a family business, we can confidently conclude that family businesses are a pillar in the US economy and by proxy, the global economy.  For the purpose of this article, we will use the broadest definition and the data reflected within that ring – a company that is controlled and majority-owned by members of the same family.  We unpack the challenges of tracking family business impact more is this article. As we dug deeper, we realized a third challenge that we included as well.

Family Business Impact by Numbers
Family businesses are responsible for employing 59% of the private sector workforce, accounting for 83.3 million jobs. (according to familyenterpriseusa.com)
Family businesses contribute 54% of the private sector GDP, or 7.7 trillion USD
The amount of products and services that they generate is truly outstanding.  Not only is their output awe inspiring, it is also a critical part of a thriving society. We believe family businesses are the life blood of the economy.
This significance is clearly illustrated with these statistics from the 2021 EY and University of St. Gallen Family Business Index.
The largest 500 family businesses, worldwide, generate US$7.28 trillion in revenue and employ 24.1 million people.
Together they constitute the third largest economic contribution in the world by revenue.
The Americas are the base for one-third of family businesses with the highest number of family businesses.
The America-based companies contribute 81% of the combined revenue in the Americas and employ 6.4 million people.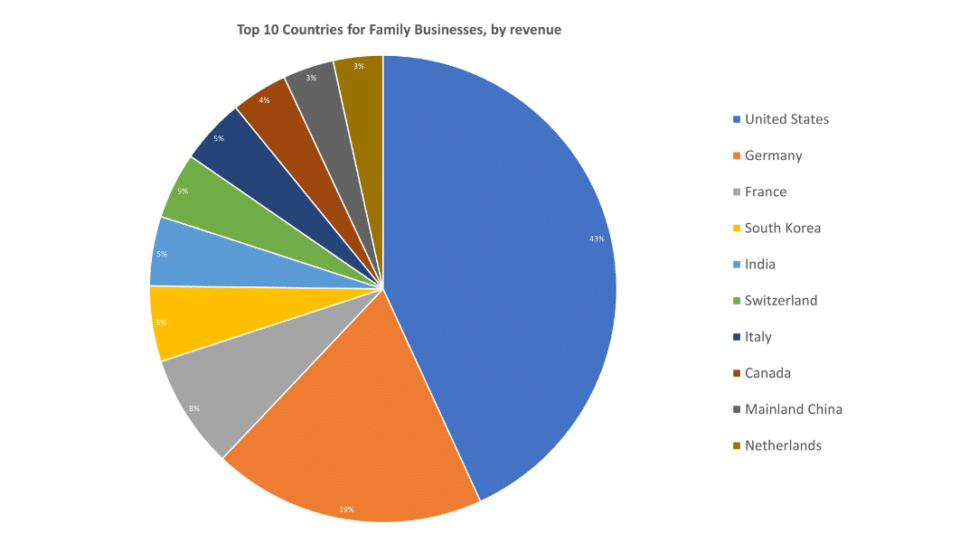 These numbers are impressive and make an obvious conclusion to the importance of family business in the world.  As a family business ourselves, originating in 1975, Centennial is proud to be a part of this economical undergirding.  We are very passionate about helping other families succeed in business.
Centennial's legacy as a family business gives us a unique and highly valuable insight into this sector of business ownership.  Besides our own first-hand experience, we've worked with family businesses of all shapes and sizes.  Those that are small and those who are large.  Those who operate locally in Greater Cincinnati, or those elsewhere in the US, as well as international operations.  
Some of our family business clients are just one company and other times it's several portfolio companies.  We've also supported family companies that are transitioning into 2nd generation leadership and those who are seeing ongoing success into their 7th generation.  This wide breadth of experience gives us the ability to understand the spoken and unspoken needs of a family business when it comes time to recruit a key leader to their team.
Family Business Boards
Boards of family business come with a variety of makeup as well.  We've come alongside boards made up of only family members and boards that include non-family members.  We are very familiar with the dynamics that can be part of both of those. 
We recognize the natural struggles that come with family ownership and can spot areas to watch out for. We've seen the impact a nonfamily executive can have on a family business – both good and bad – and that enables us to support a company as they seek their next top leader.
Family Business Succession
We know and understand the culture of family businesses.  Our unique positioning is especially suited for helping family businesses navigate the sensitive process of succession.  We are passionate about this area because we have seen tremendous success.  Alternatively, we've also seen the slow demise of family businesses that did not plan well for the future.
When we are called in to help with succession, we are eager to put our expertise to work.  We know a succession plan is critical for the next generation of success.  Unfortunately, succession planning is not a commonly communicated strategy.  According to an EY survey, "more than half [US family business leaders](58%) had succession plans, but most of these plans were informal. Only 18% of respondents had documented succession plans that were communicated to others in their organizations."
"While more than 30% of all family-owned businesses survive into the second generation, only 12% will still be viable into the third. Even more surprising is that only 3% are still operating in the fourth generation and beyond", according to the Family Business Insitute via the Boston Globe.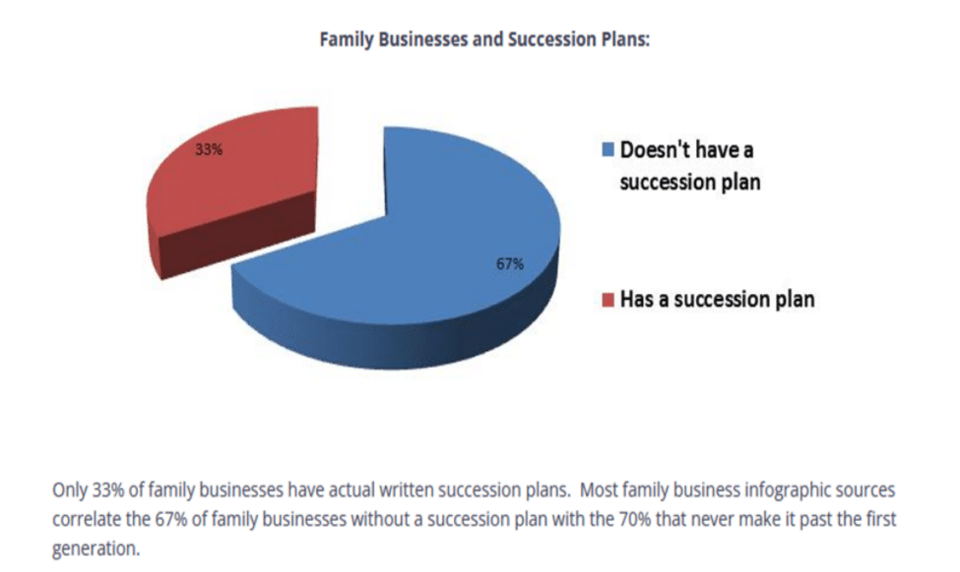 Planning for a Family Business Successor
The owners of family businesses don't see the business as just a way to earn a living.  It's their very life.  It is a huge part of who they are.  Therefore, their desire to see the business grow, transform and be successful, is important to their very identity.  When thinking about a successor it is important to carefully consider who is the best leader, not necessarily who is the most available relative.  This article is a great resource, providing thought-provoking questions, to consider who the best leader could be.

We help family business owners think through succession and the option of adding a nonfamily member to the leadership team.  If a family member appears to be the best choice, then another aspect to consider is where they need support in order to be successful.  You must be aware that not all family members are experts in everything that is necessary to run a business.  There are times when family members need outside experience to handle all the functions they are responsible for.
Considering a nonfamily member to join the top leadership of a company is a big move for both the business and the incoming candidate.  The construct of every family is unique.  They each have nuances and special sensitivities that need to be understood.  Not every executive can move from a public company to a family company.  
We've created a worksheet to help the leaders of family businesses think through the possibility of bringing in a non-family executive.  This simple, 2-page resource asks 8 questions to help the decision makers prepare for making this big move.  These questions are designed to help the leadership team be unified in several key aspects before bringing in a nonfamily member. 

The topics you'll evaluate with this resource include:
The organization's vision
The extent of new strategy they want brought in with the new hire
The people and processes that the family does not want touched
The desired outcome of hiring a non-family member
The resources they want to dedicate to growth
The decision-making structure for the business
The interview process for this hiring process
The final decision maker in the hiring process
Our recruiting team will leverage our 5 decades of an ever-growing network to ensure we get the right leader with the right motivation and knowledge.  
Recruiting For a Family Business – Centennial's Approach
With any search we work on, our first step is understanding your business.  This is a must if we are going to find the right person to fit your unique business.  With a family business this understanding goes even deeper.  It's a deeper understanding because family businesses have extra layers of dynamics that cannot be avoided when you mix family and business.
Secondly, we spend time understanding your current state.
Who is currently filling this role?
What are they doing well?
In what areas does their performance need to improve?
What are the business objectives with this role?
What strengths does the current person have and how has that been a hindrance?
Is it possible that the company has outgrown the current person?
Are you hiring to replace someone who is retiring?
Has the business expanded and you need to hire someone new to help divide up the responsibilities?
Is the person in the role a better fit for another position?
Considering a Non-family Successor
Sometimes the healthiest thing for a family business is to get a new perspective.  A fresh viewpoint can help you innovate and grow.  This area, specifically, is where a business could benefit from calling in an outside business partner.  This neutral party can talk through the idea of bringing in a nonfamily member. 
At Centennial, we sit down with the incumbent and find out how they feel.  Because we are removed from the emotions of the business, we can facilitate discussions that have the potential to be emotionally charged.  We can lead the strategy session as an outside consultant, looking to do what is best for the company.  Family members may feel overwhelmed but not really realize why.  As a neutral third party, we can unpack some practical reasons for needing to bring in a new leader to help carry the load.
We understand the unwritten rules of family business.  We're not afraid to address them and talk about them.  When you get in the room with us you are in a safe place.  We will support you.  There is very little we haven't heard.  We understand what really happens.  
It is perfectly normal to have values and operations as a family that may not make sense to the outside.  We can also help provide an outside perspective. Learn more about our approach with Family Businesses. 
Recruiting For Family Business – Why We're Successful
Because we've been working with family businesses for nearly 5 decades, we have hundreds of collective experiences.  We've worked with family businesses of all sizes.  Some of the largest as well as small to mid-size who are seeking to transition from one gen to the next.
We understand:
What it's like for the generation transitioning out.
The importance of honoring the legacy of the family.
The sensitivity necessary when communicating with a generation who has been in place for several decades
The difficulty of an outside executive integrating into the culture and team
Not everyone will be able to stay in the role that they've been in.  
We know the key to success is finding the right leader who can mold into the family in a healthy way.  Someone who understands the family's values and can take their business to the next level with the respect and care that is needed when working with family members.
Finding the right successor is something we're known for.   We naturally attract executives who are high achieving and seek a challenge that could be found in a family business.  Our experience also makes us very aware of the leaders who cannot thrive in a family business environment.  There are nuances we are adept at seeing that help us know when a leader will struggle to work within the family structure.
Family Business Success
Family businesses are incredibly valuable to our communities, our nation and our entire world.  The team at Centennial has a strong desire to see them prosper and continue their success.  Stepping into a high-level role at a family business is not always easy but it can be very rewarding for the right person.  
We love to see the chemistry that occurs when the family leaders are introduced to an individual who they trust and can put their confidence in to lead their business well.  That is what we love to do.  It is a very rewarding part of our executive search business.  Family business is where our unique expertise can really shine.  Let us do it for you!