What would it be like to move from a career in the for-profit sector to one in nonprofit? Will it be more challenging than expected?  Will it be as fulfilling as imagined? What should a person expect and how can you prepare for the change? This article will give you a firsthand look into that experience, from someone who made the switch after 22 successful years in the for-profit sector.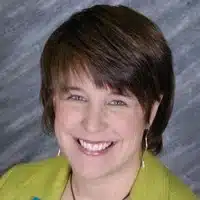 Vanessa Freytag is currently the President and CEO of 4C for Children, a nonprofit organization focused on providing childhood resources and education. However, prior to holding this position, she spent 15 years in commercial banking plus an additional 7 years running her own businesses. In this article, Vanessa shares her experience of making the switch – the challenges, the blessings and her advice to people considering a similar move.
How It Began
At the tail end of her banking career, Vanessa helped create and run an effort to meet the banking needs of women business owners and women consumers.  This was a very fulfilling initiative and further cemented her desire to help women in the community.
As she became more passionate about women-focused issues, she wanted to do more to make a difference in that arena.  Vanessa served as a volunteer at The Women's Fund of the Greater Cincinnati Foundation for many years.  During that time her close friends helpfully pointed out two things:  1) She is a talented leader and 2) She comes 'alive' when she is representing the volunteer work that she is involved in.  Over time, the idea of working full-time in the nonprofit sector started to take shape.  She let herself consider how satisfying it would be to do that kind of work every day.
Taking the Plunge into a Nonprofit Career

In 2007, Vanessa accepted her first full-time job in the non-profit sector.  After volunteering at the Women's Fund of Greater Cincinnati, for 7 years, and realizing how well her personal mission and skills aligned to their needs, she applied for, and became, the Executive Director in July of 2007.
Vanessa went on this new journey with realistic expectations and a humble spirit.  She knew she had a lot to learn but she was also very excited to make a difference.
A Challenging Difference Between Nonprofit and For-Profit
One of the biggest mindset shifts she quickly realized she had to make was about the financial truths.  Vanessa describes it this way, "The top of the financial pyramid in for-profit is shareholder or owner profitability.  The top for a nonprofit is the service to the community.  While you certainly don't ignore the balance sheet and income statement, your decisions are not based on a net profitable gain when you are leading a nonprofit."
Another financial challenge she encountered was donor money. There can be a disconnect with donors about how their money will be used.  In the for-profit sector, it's quite reasonable to expect that the amount you pay for a service or product has overhead costs built in.  You are not just paying for the meal you enjoy at a restaurant, you are also paying for the air conditioning, the cooking appliances, the carpet cleaner, etc. that all contribute to the end result of providing an enjoyable eating experience.
In the nonprofit sectors, donors – and grant parameters – often request that their funds go directly to programming.  This is not realistic when you also need to pay an accountant, the rent, computers for the employees and innumerable other expenses.
While a restaurant can set prices to cover administrative costs, nonprofits cannot raise their prices; there are no prices.  "You have to banish the idea that you set your prices to what the market can bear – that idea just does not exist in the nonprofit world," says Vanessa. Donors should recognize that 100% of their funds cannot feasibly go directly into programming. This can be a tough and delicate challenge to work through.
A Beneficial Difference Between Nonprofit and For-Profit
While nonprofit and for-profit are two different industries – not unlike a law firm and a manufacturer – some of the differences can work to your advantage.  Vanessa found this to be true with her wide breadth of connections.  Her connections in the for-profit sector were a tremendous benefit when she moved into the nonprofit sector.
The network Vanessa developed over decades in the for-profit space intersected with key people that she needed to know and work with in the nonprofit world.  That was a wonderful and unexpected benefit.  The relationship building happened much faster than she thought it would because of the foundation she had from her previous careers.
Being able to tap into her wide network provided her with the knowledge, skills, funding and ambassadors she needed to be successful in her new role.  It was huge to have that kind of support.
Transferable Skills and Their Impact
In her current role as CEO and President of 4C for Children, Vanessa is leading an organization whose mission is to provide children with access to the very best care and education.  The irony is that Vanessa doesn't have any formal early childhood education training or never taught K-12.  What makes her successful in her role?  Transferable skills.
Because she has excelled as a leader in the for-profit space, she has honed her ability to ask good questions which leads to smart decisions. Along with her savvy business acumen, Vanessa has learned how to manage and motivate teams, cast and execute a vision and build relationships.  All these skills, coupled with her intrinsic passion for the work she's doing, equipped her to be successful in the nonprofit sector.
Advice for People Wanting to Switch from For-profit to Nonprofit
Vanessa has 4 key areas of advice for people considering doing what she has done.
Be certain about what fills you up – what motivates you. There are so many different missions in the nonprofit world, find the one that makes a difference for you. Plug into the one that you are most passionate about. There is a perfect place for every person.
Before taking a top leadership position in the nonprofit sector, educate yourself on the nonprofits that interest you. The 990s are public.  Pull the 990 and see how large their revenue is, how many people work there, their core services and who funds them. You can understand a lot and see if there is a fit for your skillset.
When you make the leap, go in with humility. Not everything in the for-profit world translates to the nonprofit world.  Go as a learner not a teller.
Be realistic about your salary and benefits. The nonprofit world simply does not enjoy the level of funding that allows you to be at the same level you were in your for-profit job. Know that the tradeoff is very fulfilling days.  Also, a lot of nonprofits offer more flexibility or a better understanding that you are a whole person not just an employee.
Recommendations for Organizations that are Hesitant to Hire Someone Without Formal Nonprofit Experience
Sit down and answer the questions: "Why am I hesitant?". If the answer is, "We tried that once" – delve into why it didn't work well.  Did you make the wrong assumptions about that new hire?  Did you provide them with enough information and training as they walked into this new world?  What went awry?
Talk to other nonprofits who brought in other people. Why did it work and what did they do to make it successful?
Vanessa believes nonprofit organizations thrive when they have a healthy balance of for-profit and nonprofit staff. "As nonprofits are asked for more and more formal business reporting, it's critical to have the right expertise on staff.  Knowing how to frame the organization's work in the language of the for-profit business sector is very helpful.  Differing backgrounds provide a wealth of experience."
For Vanessa Freytag, the switch to the nonprofit sector has been a fulfilling and successful move.  The team at Centennial has been a part of similar stories as several of our nonprofit clients have hired leaders with no formal nonprofit experience.
The key to hiring the right person is being thorough in the recruiting process and ensuring the needs and passion of the organization align with the skills and passion of the candidate.  When these two elements match up, as they did for Vanessa, you can make a world of difference.